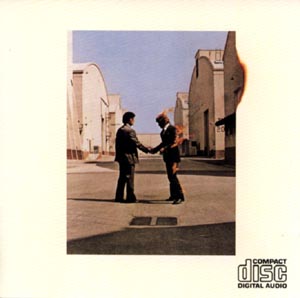 The breakthrough success of DARK SIDE OF THE MOON made WISH YOU WERE HERE a crucial follow-up in strictly commercial terms. Further pressure came from it being Pink Floyd's first recording for a new label, Columbia. Yet the demands on the band only provided Roger Waters with more fodder for his lyrics, which glanced at the band's roots as well as their new responsibilities.
The mechanized throb of a VCS3 synthesizer, fed through a repeat-echo unit, signals the opening bars of "Welcome To The Machine," a diatribe against an industry more concerned with money than creative music-making. "Have A Cigar" further establishes Waters' contempt by bringing in singer Roy Harper to play the role of a "faceless suit," who none-too-innocently asks, "Which one's Pink?" The remaining songs indirectly look back to the first casualty of Pink Floyd's growing fame, the group's founder, Syd Barrett.The 20-minute-plus "Shine On You Crazy Diamond" has its roots in earlier pieces like "Atom Heart Mother Suite" and "Echoes." But rather than just another Floydian soundscape, its lyrics make it a paean to Barrett's genius and a requiem for his subsequent breakdown. The first five of the song's nine movements open the album with sax player Dick Parry wailing as effectively as he did on DARK SIDE. The final four sections, which close the album, form a reprise that starts with the sound of wind and David Gilmour's guitar screaming and crying.

The band then settles into a laid-back jam that ends with Richard Wright's billowing synth delicately fading out.The title track deals also with Barrett, as well as the tension the idealist Waters was feeling in battling the greed that surrounded the band's success. The themes of disillusionment planted throughout WISH YOU WERE HERE would eventually sprout full-blown on THE WALL.
CD Ref.: CBS CK 33453
HARVEST CDP 7 46035 2
EMI 7243 8 29750 2 1
CD Date: 1992
N. CDs: 1
Tracks
Lyrics
Remember when you were young, you shone like the sun.
Shine on you crazy diamond.
Now there's a look in your eyes, like black holes in the sky.
Shine on you crazy diamond.
You were caught on the crossfire of childhood and stardom,
blown on the steel breeze.
Come on you target for faraway laughter,
come on you stranger, you legend, you martyr, and shine!
You reached for the secret too soon, you cried for the moon.
Shine on you crazy diamond.
Threatened by shadows at night, and exposed in the light.
Shine on you crazy diamond.
Well you wore out your welcome with random precision,
rode on the steel breeze.
Come on you raver, you seer of visions,
come on you painter, you piper, you prisoner, and shine!




Welcome my son, welcome to the machine.
Where have you been? It's alright, we know where you've been.
You've been in the pipeline, filling in time,
provided with toys and 'Scouting for Boys'.
You bought a guitar to punish your ma,
And you didn't like school, and you know you're nobody's fool,
So welcome to the machine.

Welcome my son, welcome to the machine.
What did you dream? It's alright we told you what to dream.
You dreamed of a big star.
He played a mean guitar.
And he always ate in the Steak Bar.
He loved to drive in his Jaguar.
So welcome to the machine.




Come in here, dear boy, have a cigar. You're gonna go far, fly high,
You're never gonna die, you're gonna make it if you try;
they're gonna love you.
Well I've always had a deep respect, and I mean that most sincerely.
The band is just fantastic, that is really what I think.
Oh by the way, which one's Pink?

And did we tell you the name of the game, boy?
We call it Riding the Gravy Train.

We're just knocked out.
We heard about the sell out.
You gotta get an album out,
You owe it to the people.
We're so happy we can hardly count.
Everybody else is just green, have you seen the chart?
It's a helluva start.
It could be made into a monster if we all pull together as a team.

And did we tell you the name of the game, boy?
We call it Riding the Gravy Train.




So, so you think you can tell Heaven from Hell,
blue skies from pain.
Can you tell a green field from a cold steel rail?
A smile from a veil?
Do you think you can tell?

Did they get you to trade your heroes for ghosts?
Hot ashes for trees?
Hot air for a cool breeze?
Cold comfort for change?
Did you exchange a walk on part in the war for a lead role in a cage?

How I wish, how I wish you were here.
We're just two lost souls swimming in a fish bowl, year after year,
Running over the same old ground.
What have we found?
The same old fears.
Wish you were here...




Nobody knows where you are, how near or how far.
Shine on you crazy diamond.
Pile on many more layers and I'll be joining you there.
Shine on you crazy diamond.
And we'll bask in the shadow of yesterday's triumph,
sail on the steel breeze.
Come on you boy child, you winner and loser,
come on you miner for truth and delusion, and shine!